Last Updated on Maio 3, 2022 2:12 pm by Erwin Noguera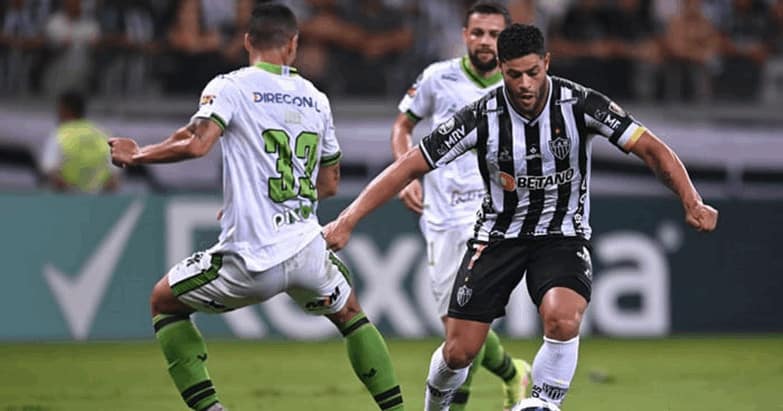 O Brasileirão Série A continues to show soccer fans in the American continent that it is the most important league in this part of the world and that, although the MLS is taking the spotlight from great players to finish their careers; the Brazilian tradition, quality and, recently, economic power, puts them ahead of any other league.
Right now, we continue to enjoy the rebirth of several big teams in Brazilian soccer that had been very asleep in recent seasons. Coríntios is currently the leader of the table, followed by Bragantino, then Atlético Mineiro, and Coritiba close the TOP 4.
On this new day, we will have a great game between two teams that will face each other for the second time this week, after they play a match corresponding to day 4 of the Copa Libertadores de America. Atlético Mineiro recebe America-MG no Estádio Mineirão, next Saturday, May 7, 2022.
Brasileirão Serie A – America-MG vs. Atlético Mineiro – Betting Odds & Free Pick – Info
Quando: Saturday, May 17 at 03:30 pm ET
Probabilidades de Moneyline: America-MG +600 / Atlético MG -250 (Source: MyBookie.ag)
Empate: +340
Onde posso assistir? Paramount+ / ViX / Estreia 3
Why Bet on America-MG
America-MG has started this season with normal performance, a bit irregular, but has managed to get 2 wins in 4 games played. Thanks to this, they are currently in 10th place in the standings, with 6 points, just 3 below the leaders, Coríntios.
America-MG is coming off an excellent victory in its last match played against Paranaense, com placar de 1 a 0.
Por que apostar no Atlético Mineiro
On the other hand, we have one of the favorites to take first place in the table in all the Brasileirão Serie A tournaments that are held year after year, Atlético Mineiro. They reach this fifth day of the local tournament being one of the teams who remain undefeated, with a record of 2 wins and 2 draws in the 4 games played.
Atlético Mineiro started the season with 2 wins, but their last 2 games have been complicated, and they have only settled for 2 points out of 6. In the last one, it was an unexpected draw against Goiás with a score of 2-2. 
Análise Final das Apostas: America-MG vs. Atlético Mineiro
Although both teams have a completely different level of play, right now that the season is starting, anything can happen, so both will go out to try to get a victory that will even place them at the top of the table.
At MyBookie.ag we can see that there is a Moneyline that favors Atlético MG at -250, while America-MG at +660.
Para esta partida não temos dúvidas de que o vencedor será Atlético Mineiro and that they will do so with a categorical 2-0 result.
Procure uma vitória direta na Moneyline Atlético-MG. Se você colocar $100 em Atlético-MG at -250 you'll be looking at a $40 win with a total payout of $140.
America-MG vs. Atlético Mineiro Betting Pick: Atlético-MG