Last Updated on May 1, 2021 11:10 am by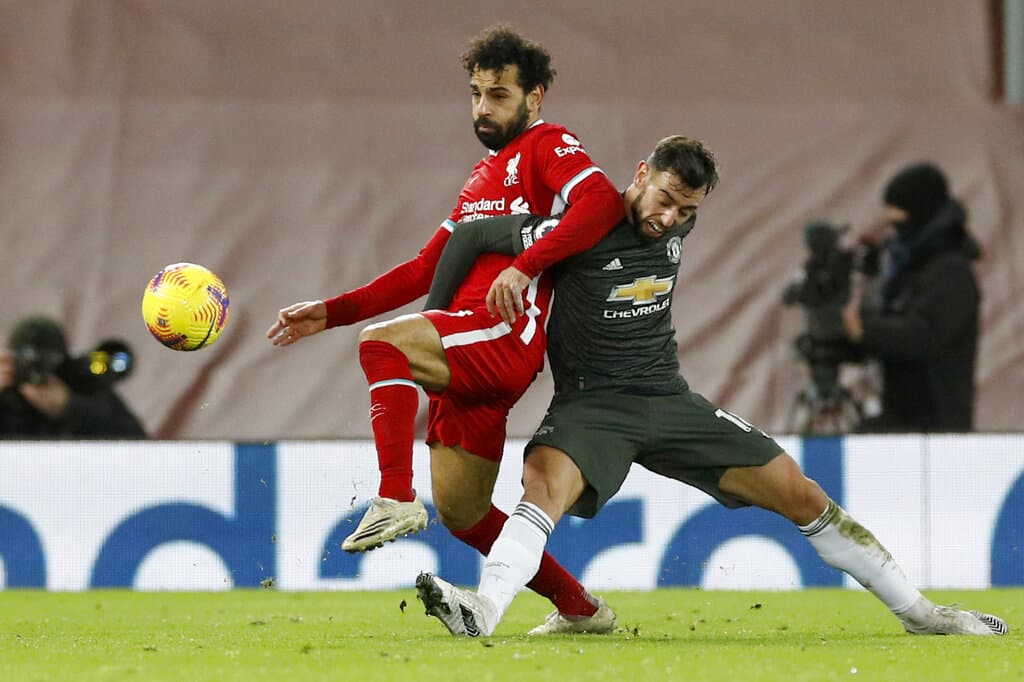 The Premier League continues this Sunday, May 2, when Manchester United hosts Liverpool at the Old Trafford Stadium. Manchester United and Liverpool are the most successful English teams in both national and international competitions, in which this match is one of the most anticipated by the entire Premier League fanbase, and is considered to be the English Derby. Between both teams, they add a total of 39 league titles, 9 European Cups, 4 UEFA Cups, 5 UEFA Super Cups, 19 FA Cups, 2 Club World Cups, 1 Intercontinental Cup, and many more.
How Did Manchester United and Liverpool Get Here?
The locals, Manchester United come to this match experiencing one of their best seasons in recent years. They currently occupy second place in the general classification table of the Premier League, only surpassed by Manchester City. They currently have a record of 19 games won, 10 draws, and only 4 defeats, for a global sum of 67 points out of 99 possible, they are 10 points behind the City.
In their most recent match, they suffered a 0-0 draw against Leeds, a team that surprisingly, after the arrival of Marcelo Bielsa as technical director, has improved on all lines of the game. In this match, Manchester took over the ball, but they only managed to have 4 clear chances to score.
You can watch the best moments of the last match played by Man United at:
On the other hand, we have the Red Devils led by Jurgen Klopp, Liverpool. A team that has been the best in recent years, winning all the competitions in which they have participated. However, this year they have fallen into a pothole from which it has been difficult for them to get out. Despite reaching the Champions League quarter-finals, their performance has declined as shown by their current position in the Premier League. Liverpool currently sits in sixth place in the table, out of Europa League and Champions League spots, just 1 point behind West Ham, who so far, is the owner of the direct pass to the Europa League. Liverpool currently has a record of 15 wins, 9 draws, and 9 losses, with 54 points out of 99 possible, that is, they have lost almost half of the points played.
Liverpool is coming off two consecutive draws, one against Leeds and the other against Newcastle, both with a score of 1-1. In their last game against Newcastle, Liverpool deserved the victory, but the ineffectiveness of their attackers when scoring goals denied them the victory.
You can watch the best moments of the last match played by Liverpool at:
The Background Between Manchester United vs Liverpool
The Last 3 Games:
Liverpool won 1 game with 4 goals in total
Manchester United won 1 game with 3 goals in total
Important Game Information
When is it? The game will be on Sunday, May 2, 2021.
What time is it? The game starts at 11:30 hours ET.
Where? Old Trafford, Manchester, England.
Where can I watch it? ESPN, DAZN.
Betting Line for Manchester City vs Liverpool Premier League Matchday 34
The English Derby will not disappoint as both teams have excellent players, and with the rebound that Manchester United has had this season, the game becomes even more attractive. Currently, the best team is Manchester United, but Liverpool with its champion breed and the great team that Jurgen Klopp has managed to put together, will play their hardest to take a victory. Therefore, we are giving our winner card to Liverpool.
Spread: +1/2 (-196) – United -1/2 (+145) – Liverpool
Moneyline: +154 United +149 Liverpool
Goals: +21/2 (-140) -21/2 (+102)
Predictions
Liverpool:

36.3%

Man United:

35.9%

Draw:

27.8%