Last Updated on June 18, 2021 3:43 pm by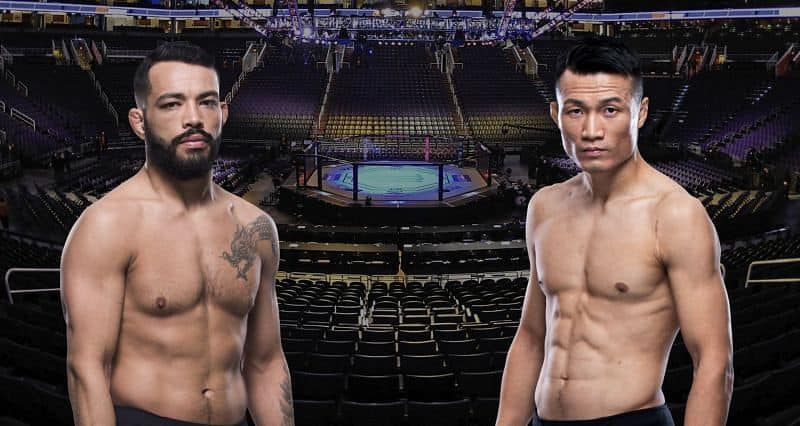 This Saturday, June 19 will be an exciting day in the UFC. In this opportunity, The Korean Zombie and Daniel Ige will face each other in the octagon in the main featherweight fight of the night. All fights will be broadcast in Latin America on ESPN+, while they can also be viewed ONLINE on UFC Fight Pass depending on your country. American fighter Daniel Ige has 15 wins, four of which were by knockout. One of his qualities is his great physical capacity to resist in the ring until he wears out his opponents. Three months ago he knocked out Gavin Tucker in the first round and began to earn his place in UFC stardom, while, on the other hand, Chan Sung Jung, or The Korean Zombie, is a South Korean fighter with a much more extensive experience and trajectory. He is currently ranked fourth in the world.
Let's review the best performances of both fighters:
The Korean Zombie: Despite his good ranking, The Korean Zombie has been on an uneven streak. Of his last six fights, he has won three and lost three others. In the last one, against Brian Ortega, he came after two wins. Another win would have taken him to the title, as he has done with Ortega, so the Korean knows that beating Ige is crucial to dream of gold. He must win and hope. For his part, Ige also arrives in a situation where he only needs to win. Against Calvin Kattar, he saw his six-game winning streak come to an end. He already recovered from that stumble in March, against Gavin Tucker (he knocked him out in the first round), and now he wants to prove that he can grow more.
Dan Ige: For his part, "50k" Ige (15-3-0), who will be looking for his second consecutive win, knocked out Gavin Tucker with just one punch in 22 seconds at UFC Fight Night on March 13 of this year, which has generated a great expectation against the next opponent, where he also recalled that: "I had the feeling that I was going to get the fight and that's why I asked for it. I know he has been looking for a fight. He even said in some interviews that he was thinking about moving up to lightweight because featherweight was tied up." Ige has another chance to break into the top five at featherweight and he's confident he can make it happen, "I'm ready to strike with him, but I'm going to mix things up on my terms. It will be exciting regardless, as when I fight on my terms it's exciting. I'm looking to put on a good fight and have a great performance." Finally, he assured, "The way I see the fight unfolding is that I'm 100 percent ready to go five rounds and put on a fast pace, but I'll be looking for the finish at all times."
Betting line:
Chan Sung Jung: 54.3% (+105)
Dan Ige: 45.7% (-120)