Last Updated on January 28, 2021 7:17 pm by Gambyl Nation Editorial Team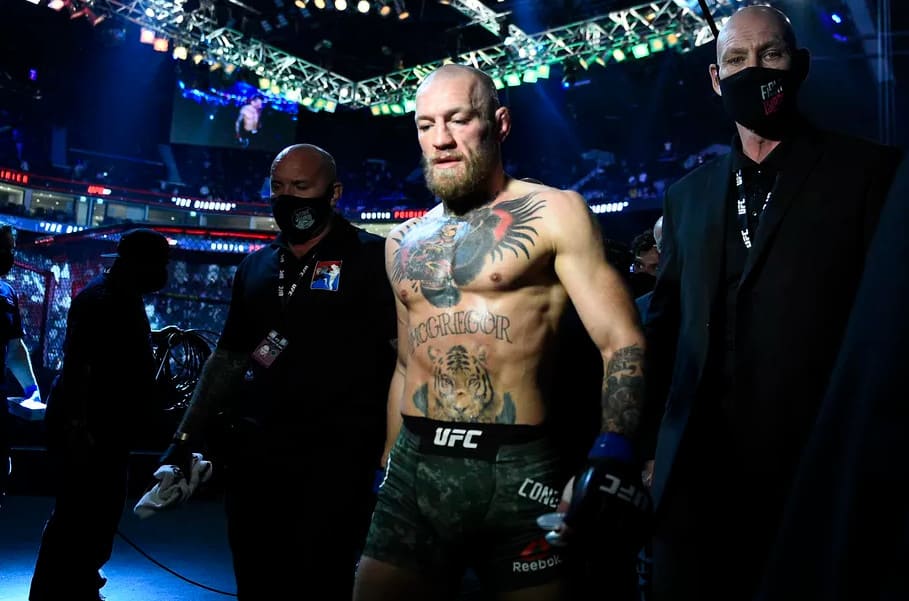 American Kickboxing Academy (AKA) head coach Javier Mendez discusses Poirier vs. McGregor and wonders how Team McGregor could have overlooked the leg kick element of Poirier's game.
The mixed martial arts (MMA) world is still reeling from the big upset at UFC 257 where Dustin Poirier knocked out Conor McGregor halfway through the second round (watch it).
The Internet is full of analysts from major networks to Tiktok tearing the fight apart to pinpoint exactly how Poirier turned the tide in the second round and left "The Notorious" Conor McGregor senseless on the canvas.
Poirier's calf kicks definitely played a big part in deadening McGregor's leg and hampering his movement.
That's what AKA head coach, Javier Mendez, seized on when talking to Submission Radio recently, and he followed that up by wondering how Team McGregor could let him go to war without an answer for those particular attacks.
"When I saw Dustin start going for the leg kicks, I go, "Oh my god, Conor's stance is not made for checking properly, leg kicks like that," Mendez said. "Especially calf kicks. So, I thought that was going to be a major problem. And then when he hit Dustin with the good shot and Dustin took it, that's when I kind of knew, oh boy, things are gonna change. And sure enough, they did. And it was a great game plan from Dustin to work the leg kicks, calf kicks. And it was a bad judgement on Conor's part to not be prepared for that."
"I don't understand how you cannot be prepared for something like that when that's what everyone's going to," he continued.
"Khabib, I told him, I reminded him every day that Justin's coming after your legs, Justin's coming after your legs. Every day I was telling him that. And you would think that you would be reminded also because that's a big weapon. Until fighters learn how to deal with it, it's gonna be a big weapon, guys, big weapon."
It was also a lefty vs. lefty situation, which left McGregor's legs even more exposed than they would have been otherwise.
Add in the fact that Poirier is known in the gym for his obliterating leg kicks and it's a pretty big oversight in game planning. Mendez was left wondering whether something different in the way McGregor set up his training camp led to his downfall.
"Inactivity does affect things, and that's what he's saying," Mendez said. "But I also happen to know, too, when you make changes in camp, when things weren't broken, why change them? I heard he went to Portugal, or something like that, to do training. But what was wrong with where he's always trained? I don't know. It looks like he made a lot of changes, and why change when things aren't broken?"
"I've always told Khabib and all those guys, when you're doing something good and you're winning, why change it? Why try to change things up? There's no need to change things if things are working. That's what I'm thinking. I'm not saying I'm right; I'm just saying that's what I'm thinking."
According to McGregor, it was the same team he's been using since the beginning, just imported into the Portugal gym owned by his conditioning coaches (themselves a part of the team since the first Nate Diaz loss).
But, who knows, maybe things were just a bit too posh and relaxed over there versus in Dublin. Maybe there really weren't enough people in positions of authority to keep McGregor on the right path.
Or maybe McGregor just got hit with a bad kick that blew out his calf and these things happen in combat sports.
We think we need more data. Which will apparently come at some point as McGregor is already hounding UFC to set up a third fight with Poirier.
Whether he returns against "Diamond" or gets in the Octagon against someone else, we'll see whether he revamps his game and protects his legs better, especially now that everyone's undoubtedly going to target them moving forward.