Last Updated on March 24, 2021 3:17 pm by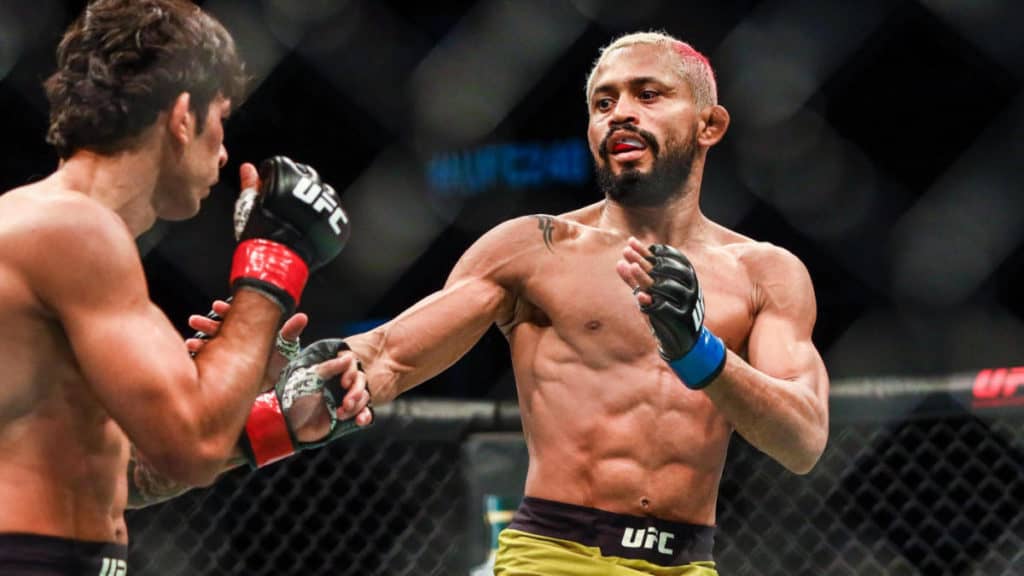 Deiveson Figueiredo, UFC's God of War
As of March 9, 2021, Deiveson Alcântara Figueiredo has been named the Flyweight Champion in the Ultimate Fighting Championship (UFC). Due to his great performance in every fight, the God of War has a record of 20 victories where 9 were by KO, 1 draw, and 1 defeat.
His last appearance was on December 12, 2020, where he faced the Mexican, Brandon The Assassin Baby Moreno. He did not allow a break to the Aztec and was able to overcome a great low blow to reach the decision of the judges. The fight ended in a draw by majority decision, which allowed The God of War to retain the title of champion.
Deiveson Figueiredo's Best Fights
Vs David Raimundo Silva
March 20, 2014, was the third fight that officially disputed The God of War. He achieved in the Jurunense Open Fight MMA 7 his fastest victory in his career. With only 53 seconds into the fight, it was a quick win as his opponent surrendered with a guillotine choke, making it the third victory in his personal record.
Vs John Moraga
On August 25, 2018, in the city of Nebraska, Figueiredo had his international debut at the UFC Fight Night: Gaethje Vs Vick. What better way to debut outside his native country, than by propitiating through elbows a Technical Knockout (TKO) at 3:08 minutes of the second round. This TKO allowed him to add to his list of achievements victory number 15, with no defeats or draws.
Vs Joseph Benavidez
On June 18, 2020, the UFC Fight Night Main Event took place. As the Flyweight Championship was in dispute, Figueiredo had failed to make weight and was not eligible to be champion. This time, the Brazilian, through the ear choke, achieved a technical submission at 4:48 minutes of the first round, giving him the UFC Flyweight title.
Vs Alex Perez
In the Flyweight Title Fight contested in Las Vegas on November 21, 2020, the Brazilian managed to get his opponent to submit via guillotine choke at 1:57 minutes of the first round. He successfully defended his title and earned his last victory to date.
When and Where Will God of War Fight Again?
Deiveson Figueiredo's next fight will be on June 12, 2021, against Mexican Brandon Moreno. This fight will be a tie-breaker contest from their fight on December 12, 2020, which ended in a draw by majority decision. The Brazilian will have a chance to defend his championship title at this event, which will be UFC 253. The venue for UFC 253 has not yet been confirmed.
You can watch Deiveson Figueiredo's best moments at: