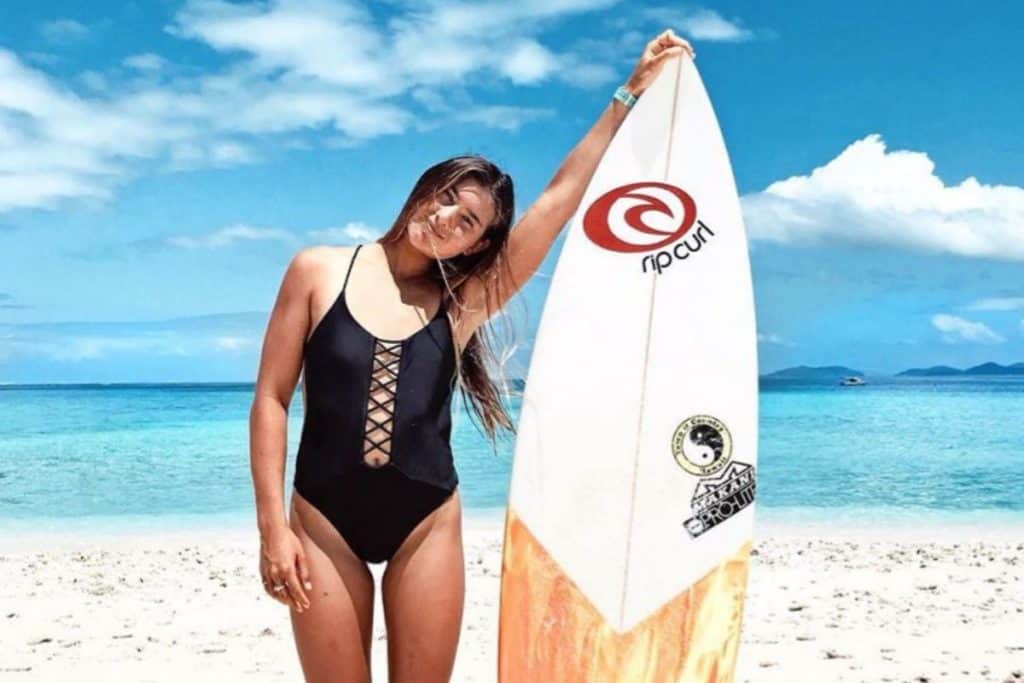 Brisa Hennessy was born on September 16, 1999, and is famously known for her career as a professional surfer. She lived 10 years of her life in Matapalo de Puerto Jiménez, Puntarenas, in southern Costa Rica. After this time, Brisa moved with her parents to the land of her maternal grandparents, Hawaii, USA, and began competing to represent the country.
Brisa's talent was so extraordinary that in 2017 she became world champion in the Junior category of the International Surf Association (ISA) at the World Championship held in South Africa. After this, Brisa decided that she wanted to compete on behalf of her country of birth, Costa Rica. At the beginning of 2018, she began to carry out all the corresponding procedures with the ISA so they would allow her to compete on behalf of Costa Rica.
In 2019, Brisa was endorsed and became the first Costa Rican to compete in the maximum world surfing tour, where she managed to occupy an excellent position among the best surfers in the world. She then continued to compete in the different surfing events of 2020. Today, Brisa is at the top of the ranks in the World Surf League.
Brisa's most important achievements to date include:
Peru PanAmerican Championship 2018 – Open Category – GOLD MEDAL
ISA Japan World Junior Championships 2017 – GOLD MEDAL
ISA Japan 2019 Senior World Championship – 8th Place
First "Tica" classified to the World Championship Tour
Qualification for the Olympic Games Tokyo 2021
Currently, Brisa Hennessy is ranked number 1 in the North American ranking and number 9 in the world ranking according to www.worldsurfleague.com. She is currently living on a small and paradisiacal island of Fiji, a country in Oceania, where his parents own an 11-cabin hotel.
Despite a majority of the surfing events being suspended due to Covid-19, Brisa comes from having a good year in 2020. She obtained first place in the Corona Open China tournament by defeating Vahine Fierro. She then competed in the Sisstrevolution Central Coast Pro and Doyle Partners Women's Pro events where she ranked third and ninth place. At the Maui Pro presented by ROXY at Pipeline Brisa was defeated by Australian, Stephanie Gilmore, and came in ninth place. After being defeated, her performance was phenomenal, in which Gilmore defeated her with only a 0.57-point difference.
You can watch the best moments of Brisa Hennessy at:
Due to Covid-19, 2021 has not been a very active year. The next event in which Brisa Hennessy will participate is in the Rip Curl Newcastle Cup presented by Corona from April 1 – 11. Brisa will ride her board in Heat 5 and will face North Americans, Caroline Marks and Courtney Colongue.
Important Event Information
When is it? The event will be on April 1-11 2021.
What time is it? The event starts at 7:00 am AEDT every day.
Where? Newcastle, NSW North Coast, Australia.
Betting Line of Rip Curl Newcastle Cup Presented by Corona
Brisa Hennessy may not be the favorite for this competition as she will face some of the best surfers in the world. However, there's no doubt that due to the inactivity of the last few months, all surfers will do their best to win the trophy, the money, and the points. Below are the betting lines for some of the surfers that will be competing in the Rip Curl Newcastle Cup including Brisa Hennessy.
Tyler Wright (+3.75)
Carissa Moore (+4.25)
Stephanie Gilmore (+5.50)
Lakey Peterson (+8.00)
Caroline Marks (+9.00)
Courtney Conlogue (+13.00)
Brisa Hennessy (+151)
Amuro Tsuzuki (+151)