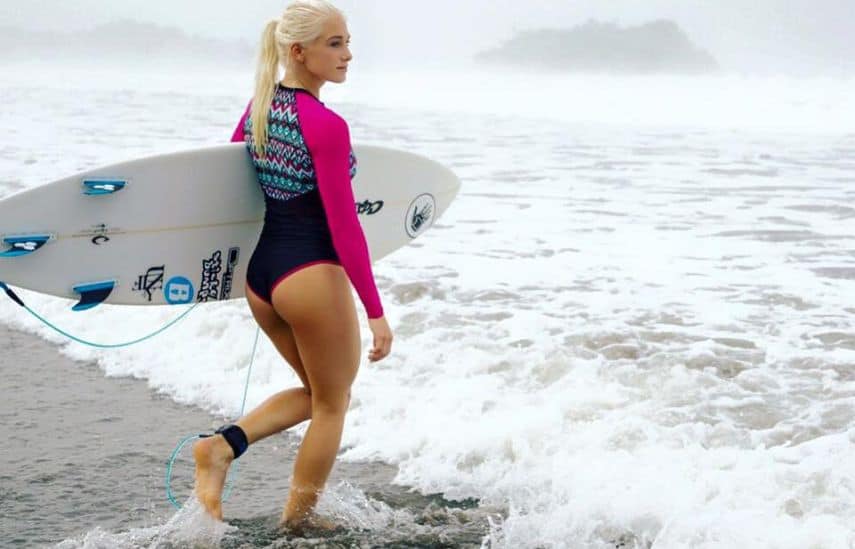 Who is Tatiana Weston-Webb
Tatiana Weston-Webb is a Brazilian-American surfer living in Hawaii. Two weeks after she was born in Brazil, her parents decided to travel to Hawaii to get Tatiana's dual citizenship. Her mother is Brazilian and a former professional bodyboarder who won an event at Pipeline in the 90s. Her father is English. Weston-Webb learned to surf when he was 8 years old, watching his older brother Troy.
Tatiana used to paddle alongside her father in Hanalei Bay when she was very young; this is one of the main reasons she is one of the safest surfers in CT. We can also remember her because of her role in Hollywood when she was called to play the role of surfer Bethany Hamilton in the movie, where surfer Hamilton lost an arm due to a shark bite.
Tatiana Weston-Webb on the Championship Tour
Tatiana is very flirty and has qualities that many surfers envy; she is fiery, brave, powerful, and confident. Since joining the Championship Tour in 2015, Tatiana has been an intimidating force to all other competitors, even the most experienced ones. Among the most important achievements in Tatiana's career was her qualification to the Tokyo 2020 Olympic Games representing her native Brazil.
Before entering CT, Tatiana managed to win the ISA World Junior Championships in 2013 and 2014.
In 2016 Tatiana won her first victory as a professional within the Championship Tour at the Vans US Open of Surfing event. Tatiana has managed to reach two consecutive finals in 2017, in Fiji and HB.
By 2018 Tatiana was ranked 14th on the CT world leaderboard, after two runners-up at Bells and Uluwatu. With her fantastic performance in 2019, she was able to end the year in 6th place in the world.
So far, the 2021 season has been good for Tatiana Weston-Webb. Excluding her last presentation at the Rip Curl Rottnest Search presented by Corona, she finished in 17th place, being defeated by Australian Nikki Van Dijk Heat 1.
Next, we will show the achievements obtained by Tatiana Weston-Webb this year 2021:
Tatiana Weston-Webb
| Tournament | Place | Points | Defeated by |
| --- | --- | --- | --- |
| Rip Curl Rottnest Search presented by Corona | 17th | 1,045 | Nikki Van Dijk |
| Boost Mobile Margaret River Pro presented by Corona | 1st | 10,000 | - |
| Rip Curl Narrabeen Classic presented by Corona | 2nd | 7,800 | Caroline Marks |
| Rip Curl Newcastle Cup presented by Corona | 9th | 2,610 | Isabella Nichols |
| Maui Pro presented by ROXY at Pipeline | 3rd | 6,085 | Carissa Moore |
Currently, Tatiana occupies number 2 in the world surfing ranking published by the World Surf League, surpassed by the Hawaiian Carissa Moore.
Next, you will enjoy the best moments of Tatiana Weston-Webb
(Video courtesy of www.youtube.com and the YouTube channel Canal OFF)
Next event data
ü When is it? The event started on Sep 20 – 24, 2021
ü Tournament name Sunset Open