Last Updated on April 21, 2021 11:10 am by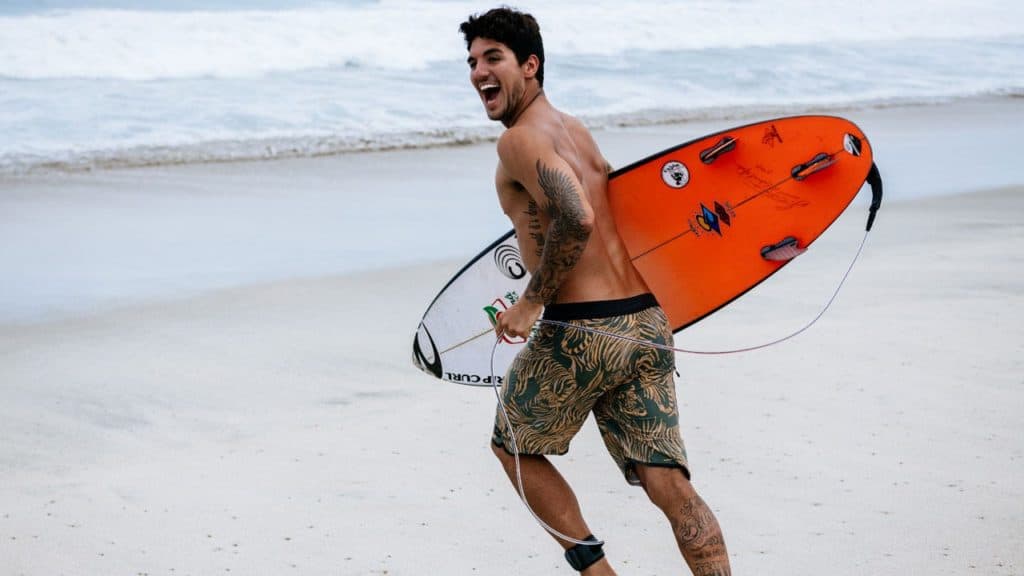 Surfing superstar, Gabriel Medina, was born in December 1993 in Sao Sebastiao, Sao Paulo. The Brazilian grew up on the beach of Maresias, where today he is much admired. Medina was fortunate to have his stepfather Charles Rodrigues serve as his coach until March of this year. Rodriguez discovered the potential of Medina at a young age and took him in the right direction. Today, in his professional career, Medina is a two-time world champion and has not ceased to amaze the world with his impressive performances and competitive spirit.
Gabriel Medina's Professional Surfing Career
The First Brazilian Surfer to Win a World Title
2014 was the year that the young prodigy unleashed his full potential. Medina beat Kelly Slater, Mick Fanning, and John Florence in an epic race for the world title. He left us with the memory of his spectacular victory in Teahupoo with perfect three-meter waves, and in front of surfing legend Slater.
Brazil's First Two-Time World Champion
In 2018, Medina managed to become a two-time world surfing champion in Hawaii. Pipeline's perfect tubes were witness to witness it, something that not only confirms the power of Medina's surfing skills, but also his status as the best competition surfer.
Youngest World Champion
Not only is Medina the first Brazilian to win a world championship title, but he is also the youngest surfer to win a title. Medina was world champion at the age of 20, the same age at which Kelly Slater won the title. The two share the honor of being the youngest surfers to achieve a championship title in the men's category. In fact, the youngest surfer in history to win the world title is a woman; Hawaii's Carissa Moore who took home the crown in 2011 at the age of 18.
First Brazilian to Win the Triple Crown of Hawaii
The Hawaiian Triple Crown is made up of the three most important championships in Hawaii: the Haleiwa Pro, the Sunset Pro, and the Pipe Masters. The surfer who obtains the best overall results in these three competitions becomes the Triple Crown champion. It is one of the most renowned titles in surfing due to the importance and tradition of the waves in Hawaii. In 2015, Medina was crowned the first Brazilian to win the Triple Crown title. He was the only Brazilian surfer to win this crown until 2018 when Jesse Mendes conquered it.
When Will Gabriel Medina Compete Again?
Gabriel Median is currently competing at the Margaret River Pro: Western Australia, Australia which runs until April 26, 2021.
Betting Line:
Gabriel Medina: 5.50
John John Florence: 4.25
Italo Ferreira: 6.00
You can watch the best moments of Gabriel Medina at: