Last Updated on June 13, 2021 8:58 am by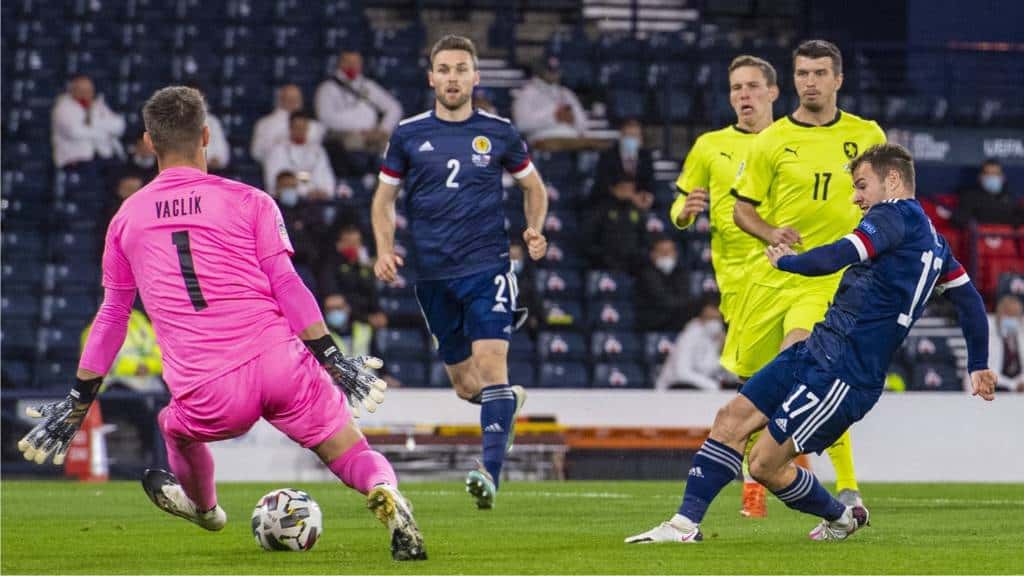 Group D of Euro 2020 is still underway, and now we are setting up a match between two very even teams, who will play everything to add the desired 3 points and reach their last two games of the first round, Scotland and the Czech Republic. The rest of Group D is made up of powerful teams from England and Croatia. The match will be played this Monday, June 14, 2021, at Hampden Park, in Glasgow.
This match is crucial for both teams since England and Croatia meet this Sunday, and winning the 3 points would ensure that they are first or second for the second date of the tournament.
How do Scotland and Czech Republic arrive?
The Scotland team has not known victory in a European Championship for more than 25 years, so that this precedent may affect the team in its debut. The Scots are coming off an acceptable tie, with two draws and one victory, which leaves them in a relatively relaxed position concerning the games to come. However, after playing a friendly match against the Netherlands where they achieved a historic 2-2 draw and winning as visitors against Luxembourg, the confidence of the Scottish team has been greatly strengthened.
Next, you will enjoy the best moments of the last match played by Scotland:
(Video courtesy of www.youtube.com and the YouTube Scotland National Team)
For its part, we have the Czech Republic team, which is not at its best, since it comes from a surprising and painful defeat against Wales in the 1-0 qualifying rounds and a loss against Italy 4-0. In the same way, they vindicated themselves in their last preparation match, in which they managed to beat the Albanian team 3-1.
The Czech Republic left many doubts about what this team can achieve on the field of play so that anything could happen, and just as they managed to draw in a recent match against Belgium 1-1, they could surprise in other results in this Eurocup.
Next, you will enjoy the best moments of the last match played by the Czech Republic:
(Video courtesy of www.youtube.com and the YouTube Royal Belgian Football Association)
Important game data
ü When is it? The game will be on Monday, Jun 14, 2021
ü What time is it? The game starts at 09:00 hours ET
ü Where? Hampden Park in the city of Glasgow, UK.
ü Where can I see it? ESPN, TUDN Radio, Sky, TSN, CTV.
Betting line for Scotland vs. Czech Republic UEFA Euro 2020.
A crucial game for each team is the one that we will enjoy on this Monday day. A Scottish team that has not known victory in these events for a long time wants to get out of that lousy streak and measure yourself against teams like England and Croatia. While the Czech Republic comes to this game with the mission to surprise and get at least in the place of the best third place. That said, and, observing the current situation of the teams, we opted for Scotland as the winner for this first match.
Moneyline: +170 Scotland +162 Czech Republic
Field Goals: +21/2 (+143) -21/2 (-200)
Predictions
Scotland: 50%
Czech Republic: 25%
Draw: 25%