Last Updated on June 13, 2021 9:05 am by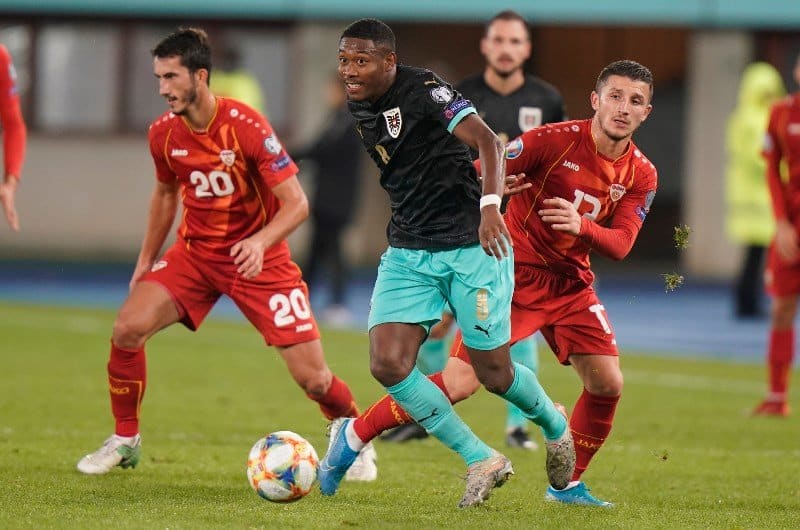 Austria will play this Sunday, June 13, the first match of Group C of Euro 2020 with its new star player from Real Madrid David Alaba against the debutant North Macedonia, with its big star and veteran Goran Pandev. Whoever wants to qualify for the next stage cannot lose this match because, on paper, they are the two weakest teams in a group that includes the Netherlands and Ukraine. North Macedonia will be played at the Arena Nationala Stadium at 11:00 a.m. and broadcasted by Sky Sports.
Let's review five interesting facts ahead of Austria vs. Macedonia:
1. For the first time in history, the Macedonian national team will participate in a European Championship.
2. The two teams have only met on two occasions, both of which were in the group stage for the Eurocup.
3. Austria dominates the series against Macedonia with two emphatic victories.
4. Macedonia only scored a total of 2 goals in both matches.
5. Austria scored 6 goals against the debutant team of this Eurocup.
Let's review the best plays from the last meeting between the two teams: (Video courtesy of: FOOTY OBZOR).
How are both teams approaching the continental European competition?
Austria: Strangely, Austria performs better away from home than at home, which makes this match very tricky for them as the venue is quite close to home; however, with North Macedonia being the weakest opponent in the Group, they will be hoping to get off to a good start. One fact to keep in mind is that the Austrian side has only kept 2 clean sheets in their last 10 home games, which also puts them under a bit of pressure. In fact, in 60% of their international friendlies played at home this year, both teams have scored. However, that should not be a complication for the team coached by German Franco Foda, who on paper should win this match, and the main task should be to keep a clean sheet, as they have failed to keep a clean sheet against the Macedonian team in the past.
Macedonia: On the other hand the North Macedonian national team has won 3 of their last 5 matches in all competitions, albeit against inferior opponents, considering that 6 of their last 10 away matches have resulted in more than 2.5 goals scored, being always ahead on the scoreboard, also, a helpful fact about them is that they have scored against 60% of their opponents in the last 5 matches, which is an excellent record for a somewhat inferior soccer nation, managing to score 8 goals in their previous 5 away games.
Betting line:
Austria: 1.80 (-130) – Best O/U: u2½-181
Macedonia: 6.70 (+372) – Best O/U: o2½+118
Draw: 3.74 (+193)