Last Updated on June 30, 2021 10:17 am by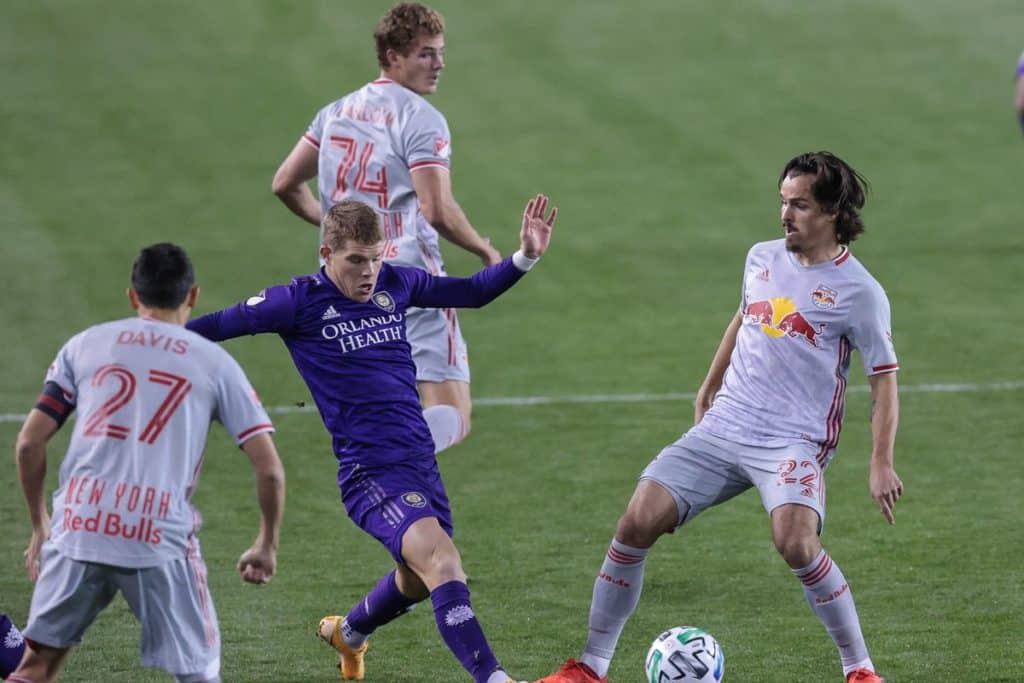 This Saturday, Orlando City takes on the New York Red Bulls in a match where the home side, boosted by their previous result, will be expecting more of the same. After a 1-2 win over Inter Miami, which has 4 wins and only one loss in the last five matches, while their rival, New York Red Bulls, comes from a 0-0 draw against Atlanta United, accumulating in the five most recent matches a record of two wins, two losses, and a draw. The match will be played at Orlando City Stadium at 6:30 p.m. ET and televised by ESPN Play and DAZN.
Let's review 5 important facts ahead of this Saturday's MLS showdown:
A review of their last meetings between the two, starting from 10/28/2018, shows us that Orlando City has won 2 of them and New York Red Bulls 3, with the number of tied games being 1.
A combined total of 12 goals were scored between the two sides in these matches, with Orlando City scoring six and the New York Red Bulls 6. This gives them average goals per game value of 2.
The previous league meeting between these rivals was in MLS Round 9 on 05/29/2021, resulting in New York Red Bulls 2-1 Orlando City.
The New York Red Bulls had 42% ball possession and made 14 attempts on goal, with 7 of them on target. The goals were scored by Clark ('35) and Cásseres ('60).
On the other side, Orlando City tried 6 of them on goal. Van der Water (84′) was the scorer.
Here are the best plays from the last match between Orlando City vs. New York Red Bulls: (Video courtesy of: Major League Soccer).
Below, we will review the latest news on the teams that will meet this Saturday in the MLS:
Orlando City: In the last match, Orlando City had 53% possession and 11 shots on goal, with 6 of them on target. For Orlando City, the scorers were Mueller ('73) and Nani ('80). On the other side, Inter Miami had 10 shots on goal with 3 on target. Higuain (67′) scored for Inter Miami. Orlando City has been on a remarkable scoring streak, drilling the opposition goal in 100% of their last 6 matches. They have racked up a combined 13 goals during that time while conceding a total of 5. However, that trend may not continue in this match. Nearly everyone is available to play, with only one simple health concern for the Orlando City coach Oscar Pareja to deal with; Alexandre Pato will not be in the squad.
New York Red Bulls: In their last match, New York Red Bulls had 38% possession and 8 shots on goal with 4 shots on target. On the opposition's side, Atlanta United had 13 chances on goal with 3 of them on target, plus Gerhard Struber's New York Red Bulls have seen their efforts converted into goals 7 times throughout their six previous meetings; they have been scored upon during those encounters a total of 8 goals. New York Red Bulls head coach Gerhard Struber has to select a team with several injury problems. Aaron Long and Youba Diarra will miss the match.
Betting line:
New York RB: 25.9% (+320) – Goals: 0.92 – Best O/U: o2½-163
Orlando City: 51.7% (-140) – Goals: 1.86 – Best O/U: u2½+117
Draw: 22.4% (+285)