Last Updated on March 19, 2021 3:50 pm by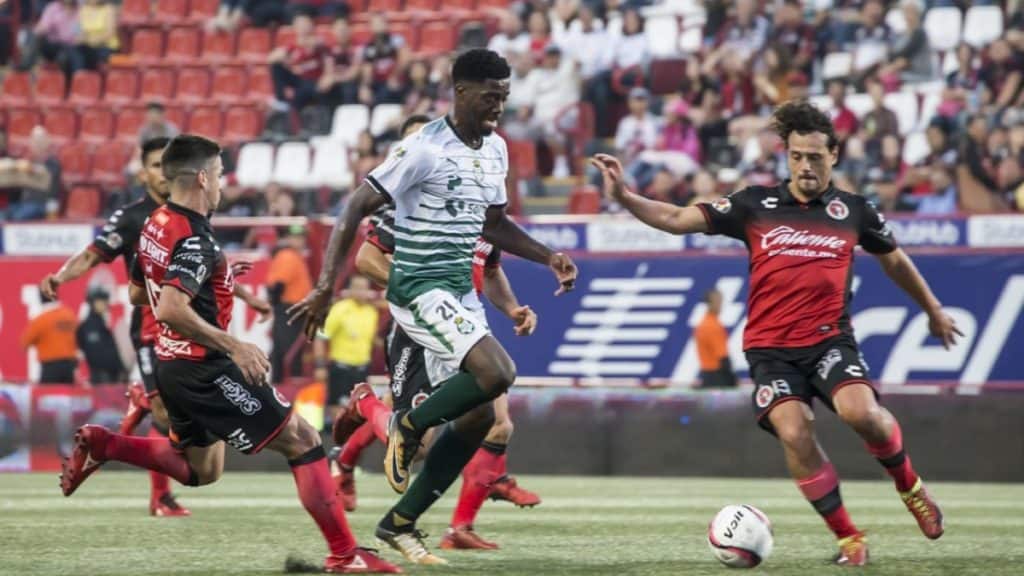 In a purely northern and border clash, Tijuana and Santos Laguna will dispute the 3 points of Matchday 11 of the MX League – Guard1anes 2021 tournament. The match is today, March 13 and will be taking place at the Caliente Stadium in the city of Tijuana. Xolos comes from less to more in this tournament. After losing against the lowest ranking team of the tournament, they return home to play against Santos Laguna and try to remain in the positions that will allow them to play the next "Liguilla".
How Did Tijuana and Santos Laguna Get Here?
Even though Xolos is in 8th place of the Guard1anes 2021 tournament, we can assure you that there has been an incredible improvement in various aspects of the field since the tournament began. But, the good performances in the last matches have been affected by the complicated schedule that Xolos has had in recent weeks, in which they had to face Club Leon, Tigres, Monterrey, and Club America. However, the game may be in their favour this time as Tijuana usually plays almost perfectly at their home field. Santos Laguna has only been able to win twice at the Caliente Stadium and has already had 4 consecutive matches without adding +3. Tijuana disputes this streak with 4 consecutive games without attaining victory, with a balance of 3 defeats and 1 draw. Their last defeat against Pachuca on Matchday 10 was somewhat painful, as they started off winning thanks to a goal from Fabian Castillo in the 35th minute, but at the end of the first half, Pachuca had already turned the scoreboard 2 – 1.
You can watch the best moments of Tijuana's last match at:
Every time we talk about Santos Laguna we have to emphasize how poorly they have been playing as visitors in recent months. Los Guerreros has made this negative streak with 4 games without a victory. This problem as a visitor for Santos is even worse if we add that in their four away games this season, they only managed to score 1 goal while conceding 3.
It is totally clear that Santos' strength is playing at home. They have won 16 out of 18 possible points and only the leader of the Cruz Azul tournament surpasses them in the sum of points being local. As Santos Laguna has just beaten Nexaca 3 – 1 at home, they currently occupy 5th place on the leaderboard with 18 points.
You can watch the best moments of Santos Laguna's last match at:
The Background Between Santos Laguna and Tijuana
The Last 3 Games:
Santos Laguna won 2 games with 7 goals in total
Tijuana won 1 game with 3 goals in total
Important Game Information
When is it? The game will be on Saturday, March 13, 2021.
What time is it? The game starts at 19:00 hours (Central Mexico Time).
Where? Caliente Stadium –in the city of Tijuana.
Where can I watch it? Fox Sports
Betting Line for Santos Laguna vs Tijuana LIGA MX 2021 Matchday 11.
Although Tijuana lost to Pachuca and Santos Laguna defeated Nexaca in their last games, both teams will no doubt give their all for this match as there are only 5 points that separate Tijuana from Santos Laguna. Considering all the information regarding the recent matches of each team, the recent matches between them, and how well Tijuana plays at their home field, we will give our winning card to Xolos de Tijuana.
Spread: +1/2 (-208) – Santos Laguna -1/2 (+157) – Tijuana
Moneyline: +164 – Santos Laguna -161 – Tijuana
Goals: +21/2 (+100) -21/2 (-135)
Predictions
Santos Laguna: 54.0%
Tijuana: 24.6%
Draw: 21.5%