Last Updated on April 30, 2021 12:16 pm by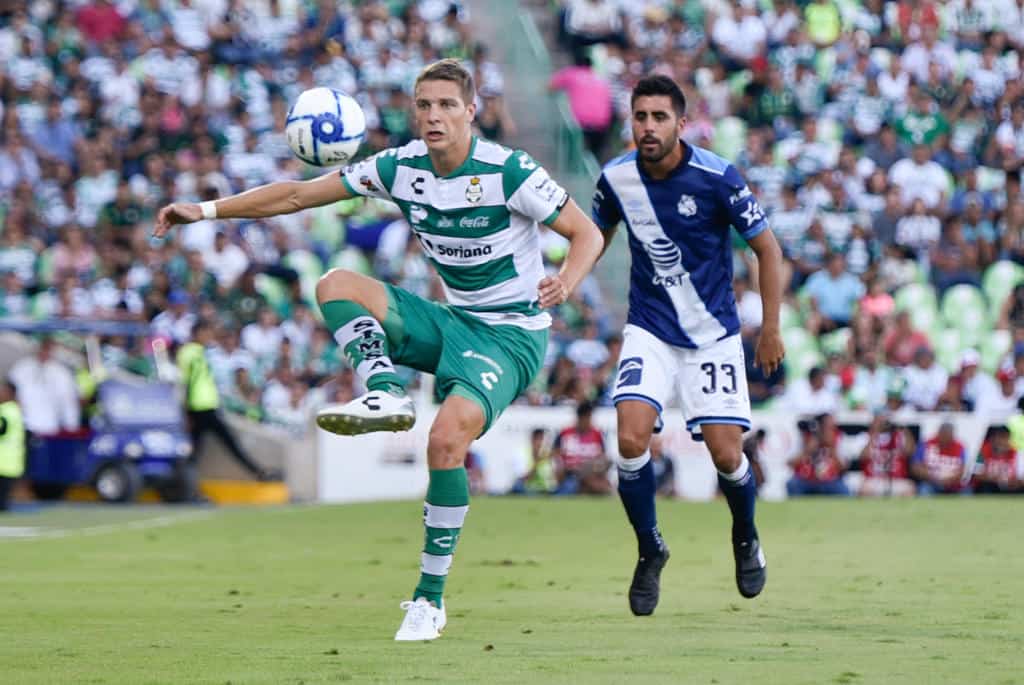 The LIGA MX – Guard1anes 2021 in its closing stage, reaches the last day of the tournament with great competition between the teams that want to qualify directly to the next Liguilla. Since Cruz Azul and Club America are already classified occupying first and second place respectively, there are only two direct spots left for the next Liguilla. For these 2 positions, there is a fervent fight between 5 teams: Puebla, Monterrey, Santos Laguna, León, and Atlas. The last matchday will be essential for these teams as they want to directly qualify without going through the playoffs.
On Sunday, May 2, Santos Laguna and Puebla will meet at the Corona Stadium, in what will be an electrifying and defining clash since the winner of this match will keep one of the two direct quotas for the next Liguilla.
How Did Puebla and Santos Laguna Get Here?
Puebla, who has had a comeback in the season after the second half, comes with an excellent streak of 5 games without a defeat, in which they had 3 wins and 2 draws. One of these draws, perhaps unexpected for all of us, was their last game against Pumas, a team that is currently out of the playoff spots. In their game against Pumas, Puebla took possession of the ball throughout the game, however, they failed to generate the necessary scoring chances, which resulted in a draw. Puebla currently has a record of 7 wins, 6 draws, and 3 losses.
On the other hand, we have Santos Laguna, who has played excellently in the closing tournament of Liga MX – Guard1anes 2021. However, they have unexpectedly lost points in the last few matchdays. Santos lasted almost the entire tournament in third place, and they were always the main pursuers of Cruz Azul and America, but in recent days they have had ups and downs that have led them to be in play-off zones. As the championship is more governed than ever, any of the 5 aforementioned teams can qualify for the next Liguilla. Santos, one of the most popular and most traditional teams in the Mexican league, will go out to kill and die in this game to take the much-disputed classification.
You can watch the best moments of the last match played between Santos and Puebla at:
The Background Between Santos Laguna vs Puebla
The Last 3 Games:
Santos Laguna has won 2 games with 8 goals in total.
Puebla has won 0 games with 3 goals in total.
Important Game Information
When is it? The game will be on Sunday, May 2, 2021
What time is it? The game starts at 20:00 hours ET
Where? Corona Stadium in the city of Santos Morelos.
Where can I watch it? FOX SPORTS 2.
Betting Line for Santos Laguna vs Puebla LIGA MX 2021 Matchday 17
In this match, both Santos Laguna and Puebla will give it their all in order to win due to the fact that the winning team will ensure their direct pass to the next Liguilla. Currently, Puebla has been very consistent and have scored many goals in their last games. Santos Laguna, despite having to play on a field that does not favor them, have the experience and the necessary players to win. Therefore, we will give our winner card to Santos Laguna.
Spread: -1/2 – Santos Laguna +1/2 – Puebla
Moneyline: – – Santos Laguna + – Puebla
Goals: +21/2 (-) -21/2 (-)
Predictions
Santos Laguna:

44%

Puebla:

30.2%

Draw:

25.8%