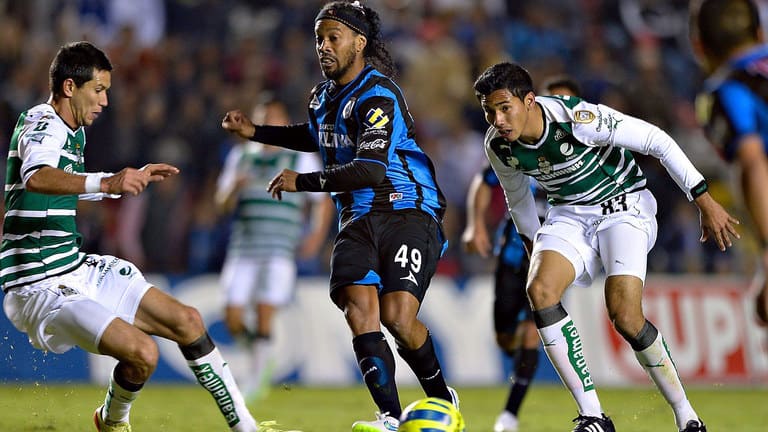 Matchday 14 of the LIGA MX – Guard1anes 2021 tournament will be full of many emotions as this could be the end of the championship for teams like Queretaro. Queretaro is looking for a victory that will keep them within the repechage zone, whereas Santos Laguna seeks to attain a top position in order to get a direct pass. In this match, Querétaro will receive Santos Laguna at La Corregidora Stadium on Sunday, April 11.
How Did Queretaro and Santos Laguna Get Here?
Queretaro comes hungry for victory as a defeat could take them away from the playoff zone and complicate their situation in this tournament. Like several teams in the championship, Queretaro started off great in the closing of the MX League – Guard1anes 2021 tournament with 3 victories in 5 games. However, their pace of play has been decreasing as the days go by, which threatens their participation in the next Liguilla.
In their last game, Queretaro lost to Tigres 0-1, in which they currently occupy last place in the playoffs. Winning this match would be ideal for their aspirations to make it to the next Liguilla.
You can watch the best moments of the last match played by Queretaro at:
Santos Laguna has had a very regular tournament, in which they are in one of the highest positions of the classification table with 6 wins, 4 draws, and 3 losses, and a total of 22 points. But, because of how tight the 2021 closure is, a setback can send Santos to the repechage positions, and take away their long-awaited direct pass to the next Liguilla. The Laguneros have to play their best as their important midfielder, Fernando Gorriarán, has suffered a major injury and will miss the remainder of the regular season.
Santos Laguna's last game was against Guadalajara where they drew 1-1.
You can watch the best moments of the last match played by Santos Laguna at:
The Background Between Queretaro vs Santos Laguna
The Last 3 Games:
Santos Laguna won 3 games with 5 goals in total
Queretaro won 0 games with 2 goals in total
Important Game Information
When is it? The game will be on Sunday, April 11, 2021
What time is it? The game starts at 20:00 hours ET
Where? La Corregidora Stadium in the city of Queretaro.
Where can I see it? FOX SPORTS
Betting Line for Queretaro vs Santos Laguna LIGA MX 2021 Matchday 14
This match will be between two teams with very different realities. Queretaro seeks to add points that will consolidate them in the playoff zone, and thus have a second chance to qualify for the next Liguilla. Whereas, Santos Laguna seeks to extend the good streak that they have had throughout the championship to classify within the top 4 positions. Therefore, we are giving our winner token to Santos Laguna.
Spread: -1/2 – Santos Laguna     +1/2 – Queretaro
Moneyline: – – Santos Laguna         + – Queretaro
Goals: +21/2 (-)                                     -21/2 (-)
Predictions
Santos Laguna:

45.2%

Queretaro:

30.8%

Draw:

24.0%