Last Updated on August 31, 2023 5:30 pm by Erwin Noguera
That's it! The Champions League is just a few weeks away from starting, and the groups of the 23/24 edition have been decided, with the proper calendar coming in the next few days. In this sense, after we knew all the participants following yesterday's matches, we just had to wait for the draw, celebrated some minutes ago. With the memories still hot, and the internet going crazy, let's get to our review of this event.
As some of you may not know, this will be the last Champions League edition with the current format, so we have witnessed the last draw arranged in the way we have known for years.
The Champions League 2023/24 will be the last with the current format
Currently, the maximum European competition is composed of 32 teams qualified through sports merit, divided into 8 groups of 4, where the top two qualify for the next phase and the third goes to the Europa League. However, from next year onwards we will have 36 teams, all placed in the same general table and divided into pots, with each club playing at least 8 games, and none going down to the Europa League.
Champions League Draw 2023/24: Groups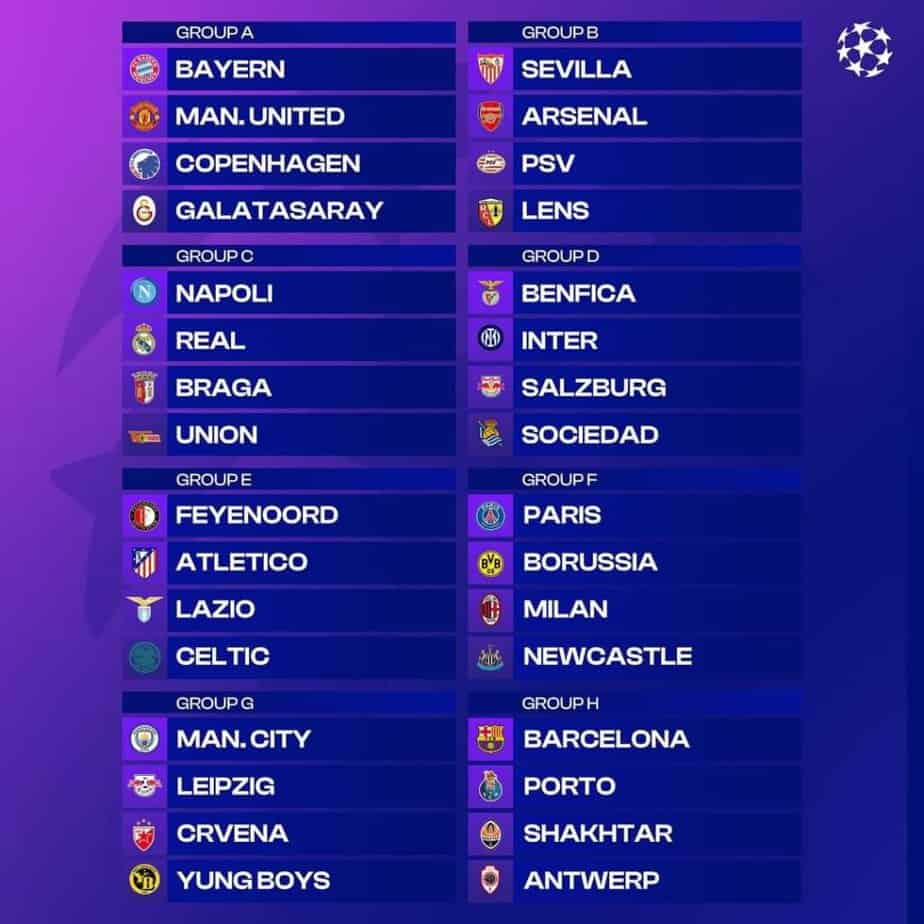 The draw of the Champions League 2023/2024 leaves us with some truly spectacular groups. Others are a little more boring and straightforward but we all know that surprises are a given in this competition. We'll provide a preview of each group giving our predictions.
Group A: Bayern München, Manchester United, Copenhagen, and Galatasaray
Our Prediction: Bayern München and Manchester United
As we said before, some groups will be pretty boring and this is one of them. Humble Copenhagen and Galatasaray will have to fight for death for the third place, with the latter probably winning. Bayern will come on top after thrashing Manchester United at the Allianz, and maybe getting a draw at Old Trafford.
Group B: Sevilla, Arsenal, PSV, and Lens
Our Prediction: Arsenal and PSV
Arsenal returns to the Champions League and, until now, the conditions are ideal. PSV is a good team but is still from a weaker league. Meanwhile, a very poor Sevilla that came in Pot 1 by a fluke will probably go down to the Europa League as always, while the humble Lens will suffer from being dismantled this summer.
–
Group C: Napoli, Real Madrid, Braga, and Union Berlin
Our Prediction: Real Madrid and Napoli
We feel a little sorry for Napoli. Last season they broke their curse related to the round of 16, so they probably wanted to build on that and go even futher this time. However, they'll face a Real Madrid that is full of injuries but has the 'Power of Friendship' as some call it and will go first. The Partenopei will go second, probably encountering a powerhouse in the round of 16 like always, and the other two will battle for the third spot, with the Portuguese winning thanks to their greater experience in Europe.
Group D: Benfica, Inter Milan, RB Salzburg, and Real Sociedad
Our Prediction: Benfica and Inter Milan
Benfica has become a staple in recent editions of the tournament. They usually give a great fight in the group phase, pass the round of 16, and then fall short in the quarterfinals. This time we believe they'll go first again, although by a small margin. Inter will fight for the top of the group and Real Sociedad, without David Silva to lead the midfield, will be one of the disappointments of the season. The team from Austria may be an animator for the first rounds, just to deflate at the crucial time as always and get last.
–
Group E: Feyenoord, Atlético Madrid, Lazio, and Celtic
Our Prediction: Atlético de Madrid and Feyenoord
Not much to say about Cholo's team, as they look solid this season. Another of the disappointments of this Champions League edition will be Lazio. The Romans seem headless without Milinkovic-Savic in midfield and, with Ciro Inmobile's prime a thing of the past, they'll suffer a lot. Feyenoord will be the surprise by qualifying at the second spot, and Celtic will be happy to get a point.
Group F: PSG, Borussia Dortmund, AC Milan, and Newcastle
Our Prediction: PSG and AC Milan
THE GROUP OF DEATH! Just like Lazio, Borussia Dortmund seems a lot worse without their midfield star, and will fall short against an AC Milan that reinforced well, and a PSG that doesn't look like a contender anymore but will do enough to go through. Newcastle has been poor this season and, just like Manchester City many years ago, they fell in the group of death in their "debut" (they played in the Champions League many years ago), so their inexperience will be key and they'll probably be last.
–
Group G: Manchester City, RB Leipzig, Red Star Belgrade, and Young Boys
Our Prediction: Manchester City and RB Leipzig
Good ol' Manchester City will have a little walk in the park in this group. Already Champions, they lifted a great weight from their shoulders, so they may relax a little and let go of some points, with an unexpected draw or, even, a loss at Leipzig. They'll go first whatever the case, followed closely by the Red Bulls. The other two teams seem on fairly equal ground so choosing positions is a coin toss. We believe the Serbians will go to the Europa League.
Group H: Barcelona, Porto, Shakhtar Donetsk, and Antwerp
Our Prediction: Porto and Barcelona
Finally, the Culés can take a breath, as their position in pot 1 granted them an accessible group (on paper) and they escaped the shadow of Bayern (for now). However, we believe that Porto will surprise us with a win at Do Dragao and snatch the first place. The Belgians will be dead last, and the Ukrainians will have some heroic performances in their home ground, but not enough to threaten the top two seriously.
Our Predictions for the Champions League 23/24 winner
It would be a long shot to predict everything from the Round of 16 onwards, so we'll list the favorite teams and speak a little about their chances of lifting the trophy.
1. Manchester City
After being the favorites for years without much success, the Citizens come as the top dogs, now with good reasons. Their performance in the last final was far from expected, but that's secondary as they got their hands on the trophy and their first treble. After a slow start, losing the Community Shield, they have been great in the league, although the only big-name reinforcement is Josko Gvardiol. We expect them to, at least, reach the final again.
2. Real Madrid
The Merengues look great till now and Bellingham fell like a glove in the midfield. However, they have many heavy injuries in their squad and also failed to land a good replacement for Benzema, so we have less faith in them than last year.
3. Bayern München
The Bavarians are still moving in the transfer market but, after a minor humiliation in the German Supercup, they come in great form and with, maybe, the best signing of all this transfer market: Harry Kane. Nothing short of the semifinal would be a disgrace, except if they encounter the other two teams above before that.
4. PSG
We believe the surprise package of this Champions League will be PSG. Without so many egos clashing in the dressing room now, and with the expectations being much lower, we believe they'll surprise and reach to the semifinals, although they'll probably fall there with another candidate.
Champions League Draw: conclusions
After our analysis and prediction, we cannot help but feel way more excited about the tournament. Remember that here in Gambyl you can find the best Champions League 23/24 odds, predictions, and match analysis completely free.