Last Updated on July 2, 2021 8:06 am by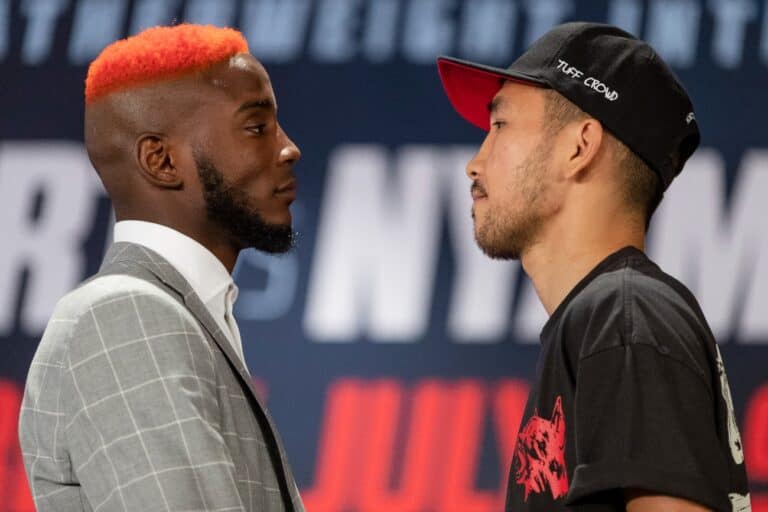 On Saturday, July 3, 2021, the boxing world will come to a standstill when the American Chris Colbert defends his WBA super featherweight belt against the Mongolian Nyambayar Tugstsogt. A 12-round fight to be played in the Dignity Health Sports Park, Carson, USA. Colbert will try to retain the WBA title against Olympic medalist Nyambayar Tugstsogt. Nyambayar is undoubtedly a tougher test for Colbert than the Cuban Gamboa (who was the original challenger, but a rib injury took him out of the fight) since he is ten years younger and has a more vast repertoire can complicate Colbert.
How do Chris Colbert and Tugstsogt Nyambayarget to this fight?
Reigning WBA super featherweight belt champion Chris Colbert is a 24-year-old from Brooklyn, New York. Colbert has an excellent and perfect record of 15 wins, no losses, of which 6 have been via knockout. On May 29, 2015, he made his professional debut when he defeated Marquis Pierce thanks to a spectacular technical knockout, achieving the first great victory in his excellent repertoire.
On December 12, 2020, his last fight was against the Panamanian Jaime Arboleda, whom he defeated by technical knockout at minute 2:16 of round number 11. This was his first defense of the title that he has been carrying since January 2020.
Next, you will enjoy the best moments of Chris Colbert:
(Video courtesy of www.youtube.com and the YouTube channel SHOWTIME Sports)
While on the side of Nyambayar Tugstsogt, he hails from Ulan-Bator, Mongolia, but his current residence in California. The 29-year-old Mongolian has a professional record of 12 wins and 1 loss, 9 of which have come via knockout. His debut in professional boxing was on March 13, 2015, when he defeated Gabriel Braxton by technical knockout.
One of the feats that the mongo has within his track record was the silver medal at the 2012 London Olympics.
His last fight was on September 19, 2020, when he defeated Cobia Breedy by split decision.
Next, you will enjoy the best moments of Nyambayar Tugstsogt:
(Video courtesy of www.youtube.com and the YouTube channel Tim Bay)
Important fight data
ü When is it? The fight will be on Saturday, July 03, 2021
ü Where? Dignity Health Sports Park, Carson, EE.UU.
ü Where can I see it? SHOWTIME.
Betting line for Nyambayar Tugstsogt vs. Chris Colbert
Chris Colbert is looking to defend the interim belt for the second year in a row for this fight. If he achieves a victory in this fight, it could lead him to fight against the undisputed WBA champion, in this category Gervonta Davis. But, in front of him, he will have an Olympic-size boxer who, like Colbert, has many skills to take the victory, the Mongolian Nyambayar Tugstsogt. In the same way, because of the different skills and the confidence with which he arrives at this fight, Chris Colbert will be the undisputed winner.
Moneyline: +450Nyambayar Tugstsogt -700 Chris Colbert