Last Updated on April 16, 2021 12:05 pm by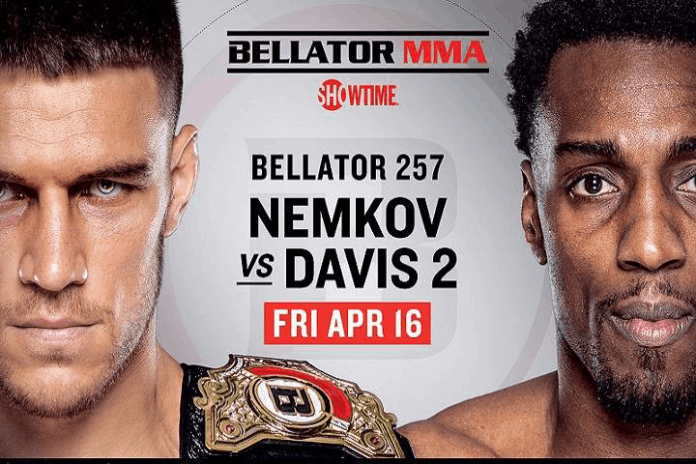 The MMA main event – Bellator 257: Nemkov vs. Davis 2 will take place today, Friday, April 16, at the Mohegan Sun Arena, Uncasville, Connecticut, United States. Vadim Nemkov and Phil Davis will meet again, but this time it will be for the MMA Light Heavyweight Championship Bellator Title. On this occasion, Nemkov will fight for the defense of the title for the first time and will do so against Davis, the former champion of the category. 
How Did Nemkov and Davis Get to This Fight?
The current champion of the light heavyweight category, the 28-year-old Russian Vadim Nemkov, comes to this fight with one clear objective, and that is to defend the division title at all costs. This will be his first title defense in his career. Nemkov currently has a 7-game winning streak, and within the stellar cages of Bellator, is an impeccable 5-0. The Russian was crowned champion last December when he defeated former champion, Ryan Bader, by second-round knockout in the Bellator 244 main event. His latest loss was at RIZIN FF1 when he lost a split decision to Sweden's Karl "King" Albrektsson.
Nemkov presents a professional record of 13 wins and 2 losses.
You can watch the best moments of Nemkov at:
On the other side of the octagon, we have the North American challenger Phil Davis, who has not lost a fight since his loss at Bellator 2018 by split decision against Russian Nemkov in Tel Aviv, Israel. However, the 36-year-old American has much more experience in the octagons of MMA. Davis currently has a global record of 22 wins and 5 losses and, in the Bellator cages, he has a good record of 9 wins and 2 losses.
His last fight was against the Brazilian and iconic fighter in the world of MMA, Lyoto Machida, where he beat him by split decision at Bellator 245.
You can watch the best moments of Davis at:
Important Fight Information
When is it? The fight will be on Friday, April 16, 2021.
What time is it? The fight starts at 18:00 ET (Prelim) 21:00 ET (Main Card).
Where? Mohegan Sun Arena, Uncasville, Connecticut. EEUU.
Where can I watch it? Youtube official Bellator Channel, Showtime.
Betting Line for Nemkov vs. Davis
This match will be against two fighters who are used to winning. Nemkov has 7 consecutive victories and Davis has only lost 1 of his last 6 fights, and as mentioned above, it was against the Russian Nemkov. Both fighters are active and eager for this match. Davis will fight to the end to win the Light Heavyweight Title again, whereas Nemkov will try to prevent Davis from connecting him in hopes of retaining the title in his hands. For this fight, we will be giving our winner card to Vadim Nemkov.
Moneyline:      (-175) – Vadim Nemkov             (+130) – Phil Davis